Powdered Sugar (Keto)
June 1st, 2023 9:21 PM Mr. Q Categories: Keto
published on Aug 05, 2020
33 comments
5 from 203 votes
Keto powdered sugar is a homemade low carb version of traditional powdered sugar! All you need is a food processor and a high speed blender and you are set!
Ever since making my own low carb powdered sugar, I've been using it in pumpkin cheesecake, brownie cookies, and in my favorite puppy chow.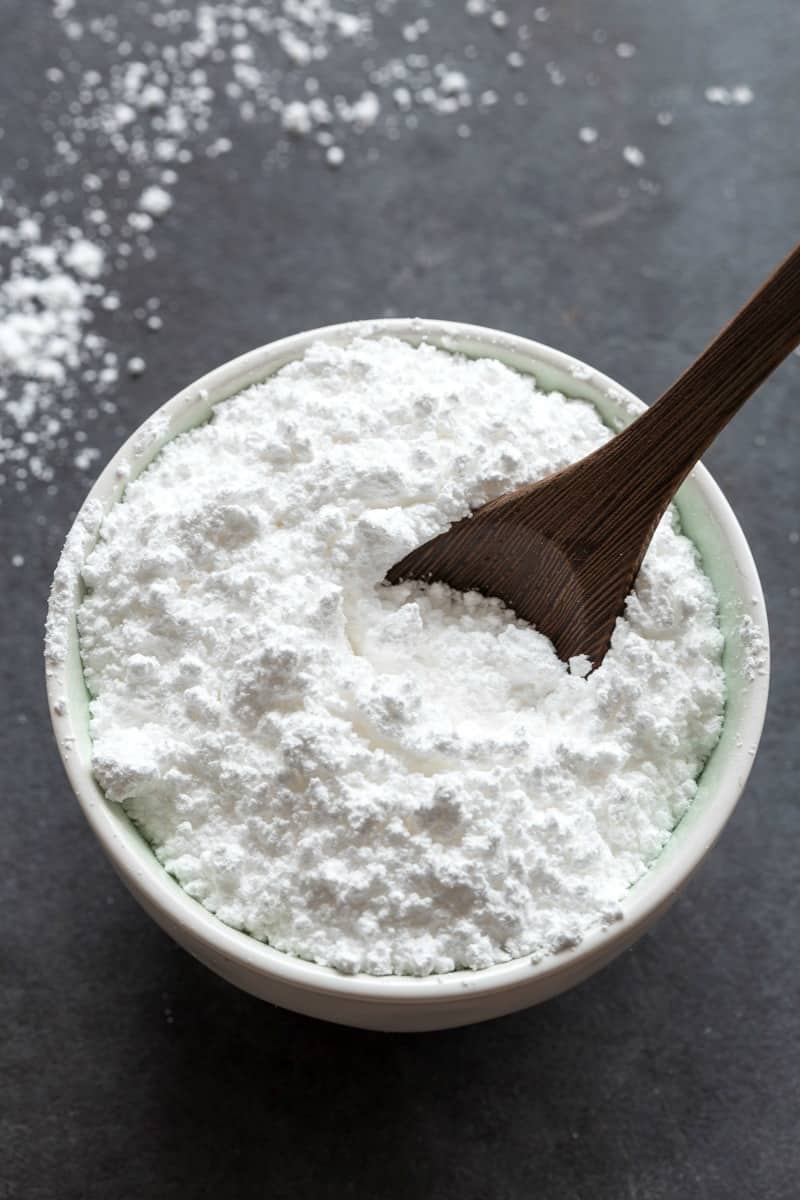 You may have noticed more and more supermarkets and grocery stores are slowly stocking more keto baking products. We've got keto syrups, keto chocolate chips, but keto sweeteners are quite difficult to come by.
As someone who would order keto confectioner's sugar online, I realized I could easily make my own with granulated sweeteners!
Granululated keto sweeteners are easily accessible, like erythritol, monk fruit, and xylitol. All it takes to make your own powdered version is to simply blend it up or grind it until fluffy!
What is keto powdered sugar?
Keto powdered sugar is a low carb version of generic powdered sugar. It is made without cornstarch, and is completely sugar-free, calorie free, and contains ZERO carbs (The carbs in normal powdered sugar is 25 grams per two tablespoons!).
Depending on where in the world you are located, it can also be known as confectioner's sugar or icing sugar.
This low carb alternative is fantastic to use in ANY recipe that calls for powdered sugar. It has the exact same taste and texture of traditional powdered sugar. You can use it for frostings, cheesecakes, sprinkled over desserts, and more. The possibilities are endless!
How do you make powdered sugar
Making your own sugar free powdered sugar is so simple. You'll start by adding your sweetener of choice into a high speed blender or food processor. Next, you'll blend it for 30 seconds or so, until it becomes fluffy.
Use immediately, or store straight away, to use later.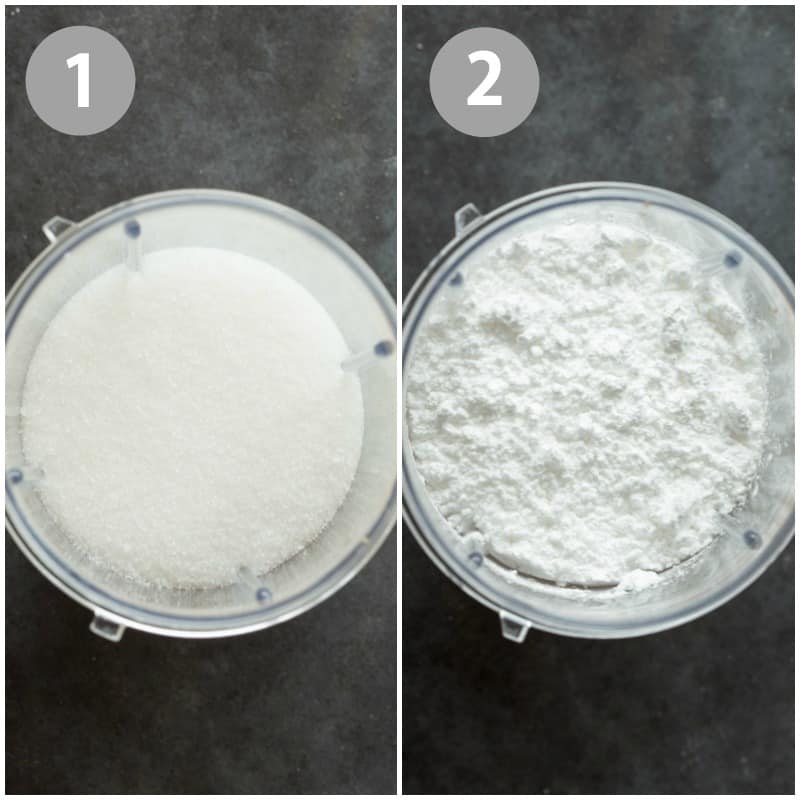 What kind of sweetener is best?
Erythritol– This is my preferred sugar substitute to make into powdered sugar. It is what current keto powdered sugars on the market use. I find the taste to be most pleasant, and also mixes the best.
Monk Fruit Sweetener– This is similar to erythritol. It wasn't as fluffy as I would have liked but still had a pleasant taste.
Xylitol– I generally don't use xylitol in my recipes, but tried this as I'd seen a powdered sugar brand use it. It blended well, but had quite a bitter aftertaste.
Do you need cornstarch to make powdered sugar?
Traditional powdered sugar often contains cornstarch, to keep the powdered sugar from clumping together. As it's not keto, I didn't include it. However, after testing several batches, I found no difference in the texture or the mixability of my homemade powdered sugar.
Storage Tips
You must always store the sugar in a sealable container or jar, kept out of direct sunlight.
Do not freeze the powdered sugar, as it will seep moisture in and spoil.
TIP: For the best result, I recommend preparing keto powdered sugar prior to using it in a recipe. It will not clump up, and it will be easier to mix as it is.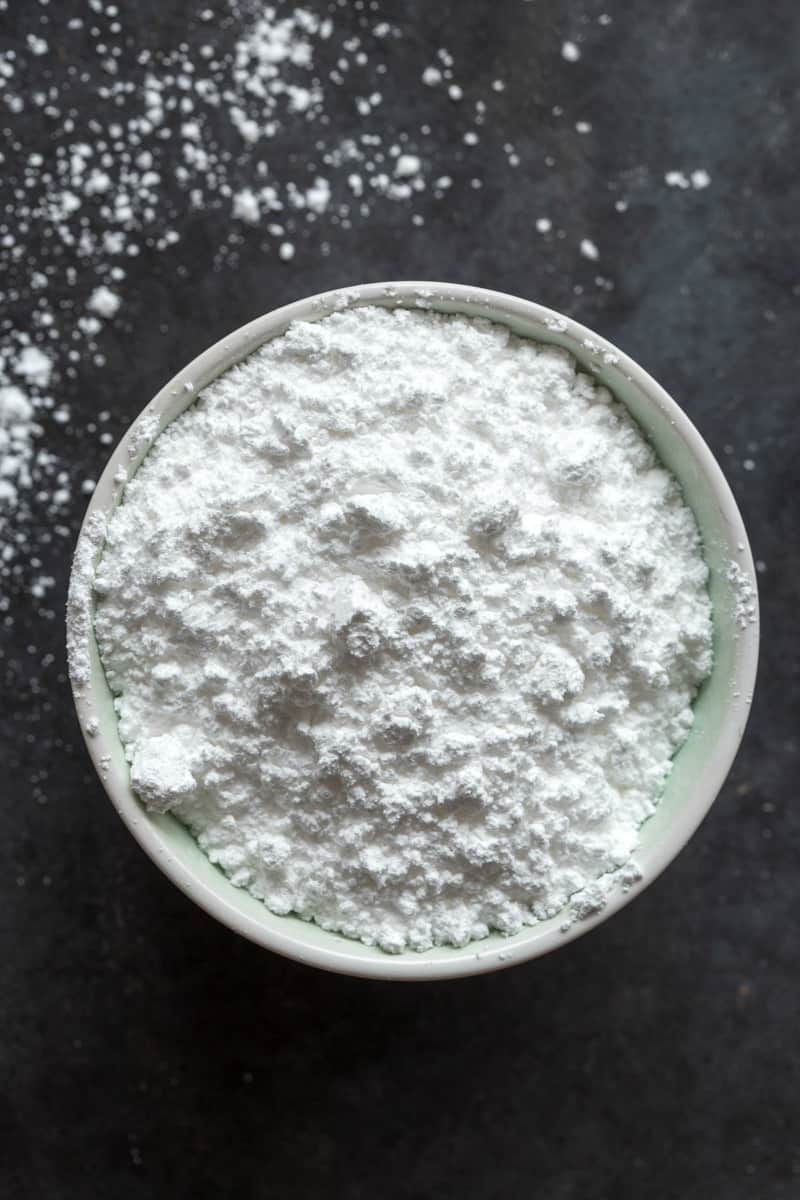 Recipes using keto confectioners sugar